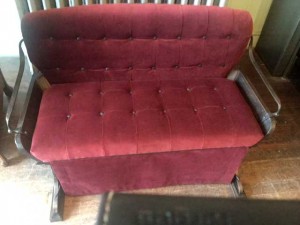 Feel free to visit my workshop any time during business hours; I'll be happy to help you with your upholstery project. I have a good selection of samples and sample books to view or to take home. You can also look at samples at home. Just click the links for a wide selection of up to date fabric photos.
I also offer estimates. E-mail a photo of your project to actonuph@yahoo.com. Include your name and phone number and I'll get back to you promptly! You can also call my shop at 860 482-4798. In addition, I also make house calls. Pick up and delivery service available.
What I Do
I reupholster sofas, chairs, dining seats, headboards, cornice boards and other specialty and unique items. Antiques are a special area of interest! Feel free to call and discuss your particular needs; I enjoy planning and designing and look forward to helping you complete your projects.
New Cushion Replacement
I offer foam replacement inserts for your old cushions, cut to order. Generally, I can do that while you wait. Same day service possible. Foam is available in different thicknesses and densities. Stop by or call and I will help you select the proper cushioning to fit your needs.
Made to order down/feather cushions are available.